Description
Safe, Quiet, Fun!
THIS 14 IN 1 EDUCATIONAL SOLAR ROBOT KIT IS POWERED BY DIRECT SUNLIGHT, SO IT REQUIRES NO BATTERIES.
TAKE YOUR ROBOT BUILDING SMARTS TO THE NEXT LEVEL WITH THE ADVANCED 14 IN 1 DO-IT-YOURSELF SOLAR ROBOT KIT.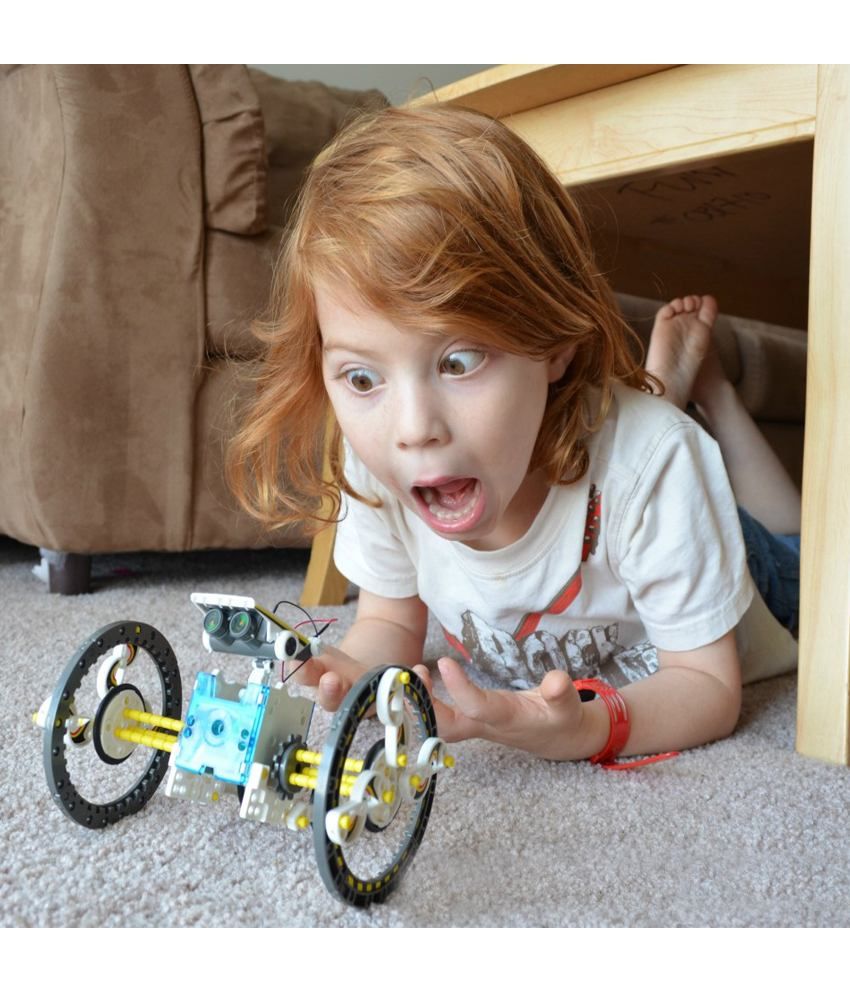 THIS SOLAR-POWERED ROBOT CAN BE TRANSFORMED INTO 14 DIFFERENT ROBOT MODES, WHICH INCLUDE A MULTITUDE OF COMICAL AND FUNCTIONAL MOVEMENTS.
THE USER CAN EASILY CHANGE FROM A WAGGING-TAIL DOG, RUNNING BEETLE, WALKING CRAB, SURFER, SPEEDSTER, AND ZOMBIE CHASER.
MOVEMENT IS POWERED BY SOLAR PANEL AND SPEED IS DETERMINED BY THE INTENSITY OF SUNLIGHT IT RECEIVES.
FEATURES:
EDUCATIONAL BUILD IT YOURSELF SOLAR ROBOT
WORKS ON LAND AND WATER
SOLAR POWERED – NO BATTERIES REQUIRED!
14 DIFFERENT COMBINATIONS; TURTLE-BOT, BEETLE-BOT, QUADRU-BOT, BOAT-BOT, WALKER-BOT, DOG-BOT AND
WHEEL-BOT (LEVEL ONE CREATIONS)
ROLY POLY-BOT, AUTO-BOT, SLITHER-BOT, SURF-BOT, BOXER-BOT, CRAB-BOT AND ROW-BOT (LEVEL TWO CREATIONS)
ADJUSTABLE POLARITY – CHANGES DIRECTION OF MOTOR ROTATION
TRANSPARENT HOUSING
ADJUSTABLE HEAD
ENHANCES CREATIVITY AND EXPANDS IMAGINATION
WITH EDUCATIONAL SOLAR ROBOT KIT, THE KID CAN LEARN ABOUT THE RENEWABLE ENERGY SOURCES AND GREEN TECHNOLOGIES WHEN THEY ARE HAVING FUN
SPECIFICATIONS:
MATERIAL: ENVIRONMENTAL PLASTIC + ELECTRONIC COMPONENTS
COLOR: MULTICOLORED
WEIGHT: 500G
DIMENSIONS: 320MM * 70MM * 202MM
PRODUCT TYPE: SOLAR TOYS
PACKAGE INCLUDES:
1* 14 IN 1 DIY SOLAR POWERED ROBOT KIT + USER MANUAL
PLEASE NOTE:
BEFORE BUILDING ANYTHING, YOU'LL NEED TO SEPARATE MOST OF THE PARTS FROM PLASTIC SPRUES AND FILE THEM INTO MARKED BAGS (THIS KIT HAS AN AWESOME SORTING SYSTEM).
JUST PLAN THAT YOUR FIRST CONSTRUCTION WILL TAKE A LITTLE LONGER BECAUSE OF THIS PREPARATORY STEP.